Obama Swaps Thin Halo for Standard Presidential Necktie
Tags: absolute power, alpha and omega, angels, anti-life equation, halo, halos, health care, infinity equation, level 22 intellect, obama, planetary alignment, second coming
In our recent post we featured Obama's streak of tie-less appearances at Town Hall meetings across the country.
Today, the White House published a telling photo of the President unveiling his true power in a move that may change human-kind's understanding of what it means to wear a tie.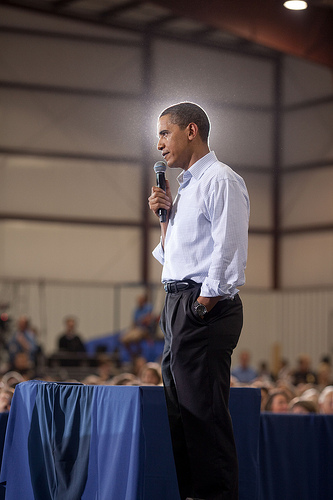 Note: The thin, white halo around the President's head appears in the original photo provided by the White House.
Executive branch officials may claim that this effect is a simple coincidence of lighting, but some fringe analysts suspect that the photo warrants a new interpretation of the President's use of neckties. They insist that the President's neck wear choices say less about what he intends to project outward to an audience than they say about a secret, formidable, faith-based power he is hiding within.
While Neckofstate's official position has long been that neck wear is used to supplement a message, the photograph above reveals that the President may be rethinking the scope of influence that neckties, or the lack thereof, could have on the political landscape.
Posted on September 1st, 2009 by head
Filed under: Barack Obama Ties, Presidential Ties