As Health Care Heats Up, Obama Loosens Tie
Tags: 2nd ammendment, barack obama, fashionista, firearm, guns, health, health care, militia, neck tie, really?!?, rifle, ties, town halls
If you can't take the heat, you should get out of the kitchen, or at least loosen your tie.
President Obama has certainly seen the heat turn up as the health care debate takes the national stage, and the pressure is getting to him. At a series of public appearances across the country in August, President Obama has been repeatedly photographed without a neck tie, and at least once in rolled-back shirt sleeves.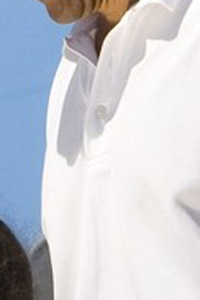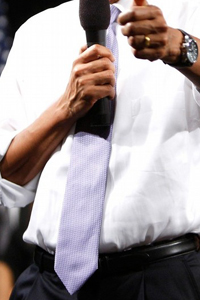 Analysts say this move reflects his effort to connect with the everyday American during a national heat-wave, but some critics say this shows that the President is still too inexperienced to deal with the realities of a dog-day afternoon in a crippled economy.
Whether the wardrobe change will sway the public is not clear. In New Hampshire and Arizona, hard line fashionistas came to Obama's town hall meetings wearing guns, probably in protest to Obama's tielessness. But the town-hall meetings continued on unhampered by the small militia forming outside, and the white house seems unmoved by the fashionista contingency harassing their tour on the ground.
Posted on August 21st, 2009 by head
Filed under: Barack Obama Ties, Presidential Ties