Grading Obama's First 100 Days
Tags: 100 days, barack obama, big blue, big red, guantanoclose, inauguration, neck tie, neckofstate, negative blue, obama's favorite neckties, obama's favourite neckties, power blue, president obama, starry night, state is strong, top seven neckties
As a group, journalists display marked ambivalence about the practice of grading President Obama on his first 100 days in office. Some emphasize how critical the 100 days are for setting the tone, and seem to suggest that a small misstep could destroy the credibility of the executive branch. At the same time, others openly acknowledge that judging a President after only 100 days would be like uniformly and globally declaring the favored winner of a British talent show before the regional qualifiers have even ended.
At Neck of State, we do believe that the 100 day mark is valuable, particularly with a presidency that begins in an era as perilous as 2009. The mainstream media, however, is missing the the most important dimension of assessment. Obama should not be evaluated on his bipartisanship, his domestic policies, his international appeal, his public addresses, his presidential memos, his grassroots outreach, or even his Portuguese water dog.
Obama needs to be graded on, and held accountable for, his neckties and other neck accessories. This exactly parallels the mission of Neck of State.
Since taking office, Barack Obama has worn twenty-four different neckties in public, photographed appearances. Obama's top seven neckties reveal a lot about the type of administration he is crafting: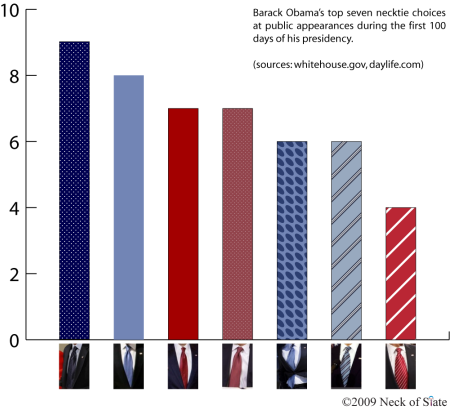 This chart displays the appearance frequency for each of Obama's seven favorite ties, as counted during his first 100 days in office.
President Obama knows exactly what he wants, and he goes after it with the gusto and drive worthy of our Commander In Chief. In the case of neck wear, this means wearing his favorite ties early and often. All of Obama's "fav seven" are either red or blue, and this reflects his Rehnquistian commitment to balance and bipartisanship. While the President is dedicated to hearing voices on both sides of the aisle, he displays extreme bias in his choice of neckties. He wore each of his top seven ties within the first two weeks of his term. Ties outside of the top seven, however, haven't been knotted up more than three times, and several only made it out of the closet once. (See the bottom of this post for a complete listing of Obama's Presidential ties.)
Public opinion Obama's job record continues to hover in the thermosphere.  Because the President and his valedictocracy are adept at correlating fashion sense with public opinion, we predict that the top seven neckties will continue to have a forceful showing for the remainder of the term.
Barack Obama's Seven Favorite Neckties
Neckties that Obama Wore Three or Fewer Times
Posted on April 30th, 2009 by head
Filed under: Barack Obama Ties, Presidential Ties