Integrity, Transparency, and Keen Fashion To Have Their Day in the Sun
Tags: black dots, classy dots, complex red, council for women and girls, Council on Women and Girls, embryonic stem cells, green, light of science, planents, planets, red, silver, stripes, weekend

White House Photo / Chuck Kennedy
Because of a higher-than-normal level of Presidential coverage over the weekend, we're breaking form and again covering the President's weekend neck wear for March 7-8. In a brazen show of candid behavior that some critics will call reckless, President Obama was photographed Saturday leaving Washington D.C. for the Maryland Presidential Retreat sans neck wear.
On Sunday, he returned home to celebrate Ted Kennedy's 77th birthday in a stylish green neck tie. The pattern on this casual affair resembles celestial bodies orbiting one another. Neck of State is happy to see that the President relaxed a bit over the weekend, and we are confident that this casual set of neck wear choices will be more comforting than warm kittens playing poker to a public distressed by the nation's economic downturn.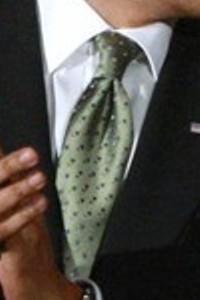 On Monday, the President wore a new blue/white striped tie while signing the Executive Order on stem cells and a Presidential Memorandum on scientific integrity. Scientists across the nation have been clamoring for this action for years, a move that Neck of State sees as the beginning of the end of the federal government's War on Science. This new tie signals a dawn of integrity and transparency in the federal government's treatment of scientific endeavor.
Tuesday and Wednesday, the President wore previously used neck ties.
Neck of State notes that the tie that he wore on Tuesday ("Complex Red") was probably too long for him, and we were not able to immediately determine if this had any impact on his meeting with United Nations Secretary General Ban Ki-moon.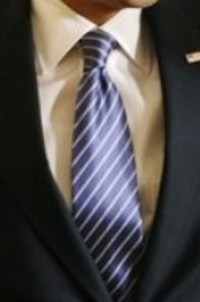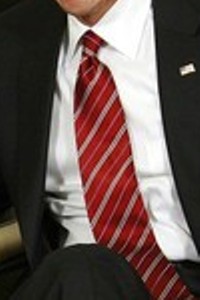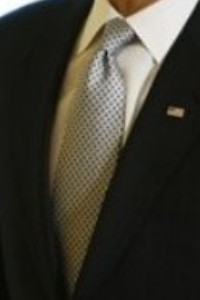 Posted on March 13th, 2009 by head
Filed under: Barack Obama Ties, Presidential Ties