Obama's Neck Tie Shines in Seventh Weekly Address
Tags: barack obama, blue, dark, dark blue, dots, obama, starry night, weekly address, white dots
In his seventh weekly address to the nation, President Obama spent enormous efforts making clear distinctions between the past, present, and future of our national economy. From the video:
Yesterday, we learned that the economy lost another 651,000 jobs in the month of February, which brings the total number of jobs lost in this recession to 4.4 million. The unemployment rate has now surpassed 8 percent, the highest rate in a quarter century.
…
My administration inherited a $1.3 trillion budget deficit, the largest in history. And we've inherited a budgeting process as irresponsible as it is unsustainable. For years, as Wall Street used accounting tricks to conceal costs and avoid responsibility, Washington did, too.

These kinds of irresponsible budgets — and inexcusable practices — are now in the past. For the first time in many years, my administration has produced a budget that represents an honest reckoning of where we are and where we need to go.
Emphasis mine.
Obama chose to wear his dark-blue tie with white dots ("Starry Night") for this address, which is in line with discussions about the flow of time and how it affects our national economy. Our view of the stars is based on cataclysmic events that occurred anywhere from years to centuries ago. By wearing "Starry Night" Obama implicitly reminds the audience that he is intervening in a crisis whose apparent effects were caused by events in the distant past.
Obama has worn "Starry Night" four times since taking office, and this was his second time wearing it for a weekly address to the nation. Current Neck of State projections place this tie as an executive favorite for the first 100 days of Obama's presidency.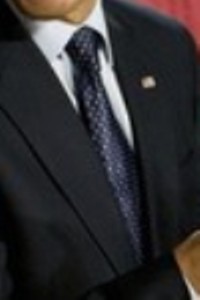 Posted on March 8th, 2009 by head
Filed under: Barack Obama Ties, Presidential Ties