Obama Taps New HHS Nominee in New Tie
Tags: Add new tag, american striped, barack obama, british prime minister, contractor reform, earth, edward kennedy, four in hand, gaea, gordon brown, hhs, john mccain, kathleen sebilius, neckties, pork, pork barrels, reform, sebelius, secretary of health and human services, senator john mccain, senator kennedy, silver, silver striped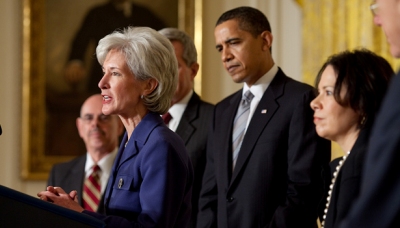 White House Photo / Pete Souza
President Obama introduced Secretary of Health and Human Services Nominee Kathleen Sebelius this week on Tuesday while simultaneously introducing a new tie that featured in excess of five different shades of silver.
Sebelius replaces Obama's initial nominee, Tom Daschle, who withdrew in February to dodge answering questions about his tax record. As with Gary Locke, Obama's choice to wear a new Presidential tie while putting forth a second-string Cabinet member is not a fluke – he hopes to deliver fresh perspective on the new nominees by distracting the public with distinct neck accessories.
Tuesday, the President wore his "American striped" neck tie for the fourth time since taking office. Neck of State has two theories to explain the blatant overuse of this particular tie:
His meeting with British Prime Minister Gordon Brown necessitated a strong statement of American will and a reminder of what happened the last time our nations entered into conflict. Use of an American striped tie could be a subtle, but succinct, jab between world leaders.
He was momentarily distracted by creepy journalists incessantly talking about Michelle Obama's arms and how they are becoming the "stuff of legend". In his temporary confusion, he may have accidentally worn an overused tie.
At Neck of State we see these of both these theories as plausible, but tend to believe that neck wear choices are never accidents.
On Wednesday, the President wore "Big Red" (a GOP crowd pleaser) when he was joined by Senator John McCain to discuss the reform of government contracting. By wearing a red neck tie, President Obama made it clear that there will be a resolute bipartisan stand to putting contractor excesses to an end.
Finally, Thursday, the President attended the White House Forum on Health Care Reform in his green tie with white stripes. Senator Edward Kennedy, a champion of health care reform, made a surprise visit to the forum, and Obama chose to show solidarity with the Senator's struggle through illness by wearing a tie that symbolizes the healing power of the earth.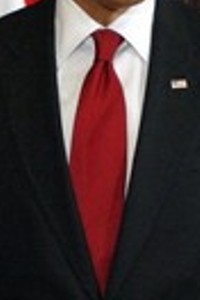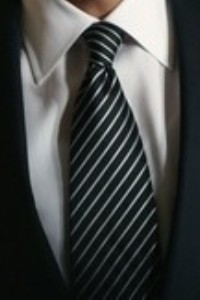 Posted on March 6th, 2009 by head
Filed under: Barack Obama Ties, Presidential Ties