Obama Neck Tie Says He's Ready to Fight
Tags: barack obama, budget, burgundy, bush, fight, four in hand, FY 2010, Gallipoli, guantanmo, guantanoclose, iraq, iraq war, obama, optimus prime, patterned, red, war, weekly address
In his sixth weekly address to the nation, President Obama came off the blocks like a leopard at Gallipoli, vehemently reasserting his dedication changing the direction of the United States, no matter who it angers in Washington. From the video:
I realize that passing this budget won't be easy. Because it represents real and dramatic change, it also represents a threat to the status quo in Washington. I know that the insurance industry won't like the idea that they'll have to bid competitively to continue offering Medicare coverage, but that's how we'll help preserve and protect Medicare and lower health care costs for American families. I know that banks and big student lenders won't like the idea that we're ending their huge taxpayer subsidies, but that's how we'll save taxpayers nearly $50 billion and make college more affordable. I know that oil and gas companies won't like us ending nearly $30 billion in tax breaks, but that's how we'll help fund a renewable energy economy that will create new jobs and new industries. In other words, I know these steps won't sit well with the special interests and lobbyists who are invested in the old way of doing business, and I know they're gearing up for a fight as we speak. My message to them is this:

So am I.
Emphasis mine.
This isn't the first time that we've seen that Obama is ready to fight. When it comes to the policies of the Bush administration, it seems like Obama is resorting to the hatchet rather than the scalpel. The latest Bush trademark to get cut is none other than the Iraq War. On Friday President Obama announced that he would end U.S. combat operations in Iraq by August 31, 2010. Bringing the war to a responsible end was central to Obama's campaign platform, so this move in itself does not come as a large surprise.
But nobody expected that he would end the war while wearing the same tie that he used when closing the facility at Guantanamo Bay. During his campaign to be President, Obama repeatedly promised he'd bring a new attitude to the war on terrorism. The two most important steps he has thus far taken in implementing this vision were the closing of the Guantanamo Bay detention camp, and now ending the Iraq War, and he did both in the same neck tie. Neck of State hopes that the President will consistently reshape the country's military strategy while wearing this austere burgundy accessory.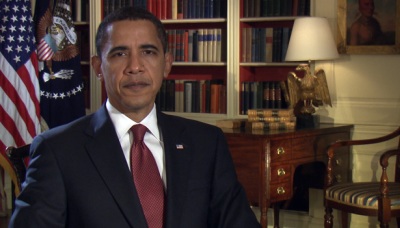 White House Photo / Pete Souza
Posted on March 2nd, 2009 by head
Filed under: Barack Obama Ties, Presidential Ties