Obama State of the Nation Tie
Tags: big blue, changing ties, GOP, reaching across the aisle, reaching out, red football, red football field, starry night, state of the nation, wide

White House Photo: Pete Souza
It's barely Wednesday, and already this is a monumental week for Barack Obama's neck.
Sunday, the president set the attitude for the week with a high-powered, high-class, and high-octane black bow tie.
Monday, the President suited up in a consistent favorite, "Starry Night", as he began encouraging support for his upcoming budget bill. Tuesday morning, the President once again brought "Big Blue" back for his meeting with Japanese Prime Minister Taro Aso, which speaks volumes to this administration's commitment to building a stronger alliance with Japan.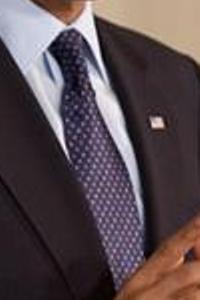 Last night, Obama gave his first address to a joint session of congress. The speech was vigorous, entertaining, and comprehensible. He spoke directly to the American People about where we are, how we got here, and where we are going. Most viewers had high-expectations for the speech, and they were not disappointed.
The only unexpected turn of the night came when Obama changed ties into a new crimson cravat with white stripes for his address, a move that was certainly not calculated by his political opponents in the GOP. The President's schedule is extremely regimented and busy, so for him to deliberately change ties is wholly significant. Moreover, donning a new neck tie despite recent tie reuse is a maneuver designed to show the nation that with the passage of the stimulus bill, America is not only turning the page and starting a new chapter, but also learning a new language and writing in a previously unexplored genre. Some analysts also claim that by wearing a wide, red neck tie Obama is renewing his pledge to reach out to Republicans in Washington, but Neck of State could not confirm these reports.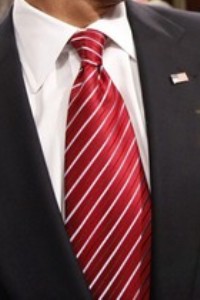 Posted on February 25th, 2009 by head
Filed under: Barack Obama Ties, Presidential Ties