Obama's Economic Monotony Tie
Tags: American Recovery and Reinvestment Act, barack obama, becasue of what we did, Cecchetti ballet, Die Fledermaus, dimple, four in hand, gray, solid, somber, weekly address
In his fifth weekly address to the nation, Barack Obama wore a solid gray neck tie. He chose a dull color to deliver a somber, repetitive message that was fundamentally about unity and accomplishment. From the address:
Because of what we did together, there will now be shovels in the ground, cranes in the air, and workers rebuilding our crumbling roads and bridges, and repairing our faulty levees and dams. Because of what we did, companies — large and small — that produce renewable energy can now apply for loan guarantees and tax credits and find ways to grow, instead of laying people off… Because of what we did, our children can now graduate from 21st century schools and millions more can do what was unaffordable just last week… Because of what we did, lives will be saved and health care costs will be cut… Because of what we did, there will now be police on the beat, firefighters on the job, and teachers preparing lesson plans… Because of what we did, 95 percent of all working families will get a tax cut — in keeping with a promise I made on the campaign.
…
No single piece of this broad economic recovery can, by itself, meet the demands that have been placed on us… In short, we cannot successfully address any of our problems without addressing them all.
Emphasis and HTML mine.
The President's tie serves multiple purposes in this message. His monotonous "because of what we did" mantra parallels the Obama/Biden "yes we can" campaign slogan, but in this neck tie, the color and enthusiasm of his campaign are gone. By passing the American Recovery and Reinvestment Act Obama has achieved his first major milestone with the grace of a Cecchetti ballerina, yet his neck tie reminds us of the darkness of Die Fledermaus. The stark tie he wore Friday is simultaneously symbolic of the fierce economic road ahead and the composure that we must maintain while we travel that road together.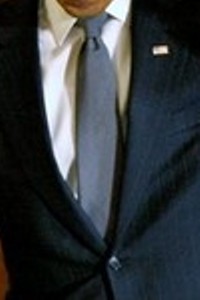 Posted on February 24th, 2009 by head
Filed under: Barack Obama Ties, Presidential Ties