Obama No Silver Lining Tie
Tags: barack obama, black dots, economy, four in hand, neckofstate, neckties, no silver lining, silver, stimulus plan, weekly address
The American Recovery and Reinvestment Act of 2009 was passed last week, and on Friday President Obama trumpeted the achievement in his fourth weekly address to the nation. From the address:
Congress has passed my economic recovery plan – an ambitious plan at a time we badly need it. It will save or create more than 3.5 million jobs over the next two years, ignite spending by business and consumers alike, and lay a new foundation for our lasting economic growth and prosperity.
…
Our debt has doubled over the past eight years, and we've inherited a trillion-dollar deficit – which we must add to in the short term in order to jumpstart our sick economy. But our long-term economic growth demands that we tame our burgeoning federal deficit; that we invest in the things we need, and dispense with the things we don't. This is a challenging agenda, but one we can and will achieve.
…
It will take time, and it will take effort, but working together, we will turn this crisis into opportunity and emerge from our painful present into a brighter future.
Emphasis mine.
The President's address was rife with powerful metaphors. By igniting spending, we can jumpstart our sick economy, tame the deficit, and emerge from our painful present into a brighter future. The words describe something like a Transformer with low batteries fighting a lion in the circus, and such confusing imagery can only mean that the President's true intention was to direct our attention to more powerful metaphors via his unprecedented necktie.
Obama's choice of a tie that's neither red nor blue shows that he's not only above partisanship, but also above bipartisanship. With all the emphasis that gets placed on reaching across the aisle, the President has found it necessary to point out that bipartisan is not the same as correct. Some GOP senators are crying foul at this behavior, while other more compliant senators apparently didn't get a chance to read the bill. Meanwhile, the President sits in style in the Oval Office pushing his agenda through relatively unhindered.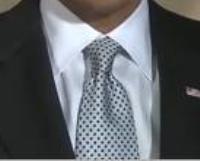 Posted on February 16th, 2009 by head
Filed under: Barack Obama Ties, Presidential Ties