Obama Town Meeting Series Neck Ties
Tags: american striped, barack, barack obama, barack obama tie, blue, dimple, four in hand, gunatanoclose, hard blue, neckties, never never land, neverland, red, snow, tie, town hall meetings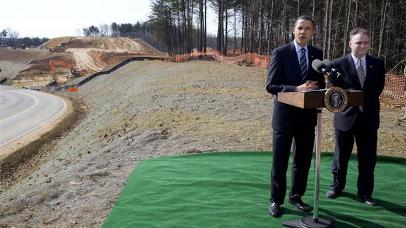 White House Photo: Pete Souza
President Obama made a series of appearances this week in Town Hall style meetings where he tried to win broad public support for his ailing economic stimulus plan. Because, like fairies, stimulus plans can only survive if you believe in them. It's Neverlandian democracy in action.
Obama's only other recourse for stimulating the stimulus is to either send out massive amounts of spam or to showcase a new series of presidential neck ties. This week, the President donned three ties that had never before graced the White House, which stands in severe contrast to last week's unprecedented tie reuse, and could indicate that he is willing to burn more political capital on the recovery legislation than his opponents thought.
Thursday also marked the first time that the President has worn a tie with stripes that have a "negative" slope (a.k.a. "American striped"), a move that's been hailed as evidence that's he's disgusted with both Republicans and Democrats for their infantile posturing and ready to move on to consistent, clear communication through the latest in neck wear fashions.
UPDATE: Reanalysis of an earlier neck tie revealed that this is not in fact the first time that Obama has word the American striped tie.
Posted on February 13th, 2009 by head
Filed under: Barack Obama Ties, Presidential Ties