Obama 'Hurry Up, So That We Can Wait' Neck Wear
Tags: barack obama, bare collar, big red, camp david, chillax, economy, four in hand, no tie, president obama, solid, stimulus, weekly address
In his third weekly address to the nation since taking office, President Barack Obama spoke on the need to act post haste on the stimulus package even if the bill isn't quite right. From the video:
Legislation of such magnitude deserves the scrutiny that it's received over the last month, and it will receive more in the days to come. But we can't afford to make perfect the enemy of the absolutely necessary. The scale and scope of this plan is right. And the time for action is now.
Neck of State analysts are skeptical about the President's commitment to acting right now. We expect instead that the stimulus bill's execution will exemplify the 'Hurry Up, So That We Can Wait' Principle, which states that the speed at which an organizational or authoritative entity will take action is inversely proportional to the urgency with which said entity makes its requests.
Case in point: after recording the address sometime Friday, Obama took off to Camp David with his family on Saturday. A fortuitous photographer was able to catch the President truly kicking back with no tie at all.
At Neck of State, we do not believe that this is miscalculation by the President. On the contrary, we encourage the President to take any and all vacation time that he deems necessary to support his inconceivably stressful lifestyle. The switch to casual mode is a signal to the nation that we can all just chillax. The President's urgency is meant only to strike paralyzing fear into the overconfident hearts of his enemies. His neck wear tells us what he cannot say outwardly in any Press Conference: "Everything will work out in the end. If it hasn't worked out, then it's not the end".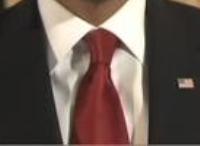 Posted on February 10th, 2009 by head
Filed under: Barack Obama Ties, Presidential Ties