Obama Empathetic Storytelling Tie
Tags: american stories, American Story, barack obama, empathy, fdr, fireside chats, four in hand, multiple stripes, necktie, red, stories, storytelling, stripes, white red stripes
President Barack Obama, our teacher, storyteller, and secret lover, appeared in his second weekly video address to the nation in the early hours of Saturday morning.  This week he spoke on the aftermath of last year's Wall Street bailouts. From the video:
Behind every statistic there's a story. Many Americans have seen their lives turned upside down. Families have been forced to make painful choices… Last year Congress passed a plan to rescue the financial system. While the package helped avoid a financial collapse, many are frustrated by the results — and rightfully so… Banks have been extended a hand, but homeowners, students, and small businesses that need loans have been left to fend on their own.

And adding to this outrage, we learned this week that even as they petitioned for taxpayer assistance, Wall Street firms shamefully paid out nearly $20 billion in bonuses for 2008. While I'm committed to doing what it takes to maintain the flow of credit, the American people will not excuse or tolerate such arrogance and greed. The road to recovery demands that we all act responsibly, from Main Street to Washington to Wall Street…

Rarely in history has our country faced economic problems as devastating as this crisis. But the strength of the American people compels us to come together. The road ahead will be long, but I promise you that every day that I go to work in the Oval Office I carry with me your stories, and my administration is dedicated to alleviating your struggles and advancing your dreams.
Emphasis mine.
The post was made on the White House Blog just before 5AM Saturday morning (although it was pre-recorded Friday night). Listeners often compare the President and his genuine telling of the American Story to FDR and his fireside chats. These addresses let us know that the President can not only empathize with us, but also give the public clear indicators of who is a hero, and who is a villain. Words like shameful, arrogant, and greed leave little doubt as to who the bad guys are.  And nothing says "hero" to the American people like "committed to doing what it takes". Also, pictures like this help: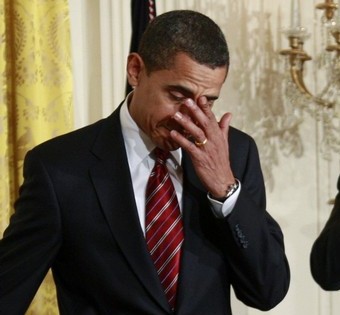 Original Photo Credit: Reuters/Jason Reed
Obama is pictured above just before signing the Middle Class Working Families Task Force executive order in the White House on Friday.  This marks the first time that Obama has worn a tie with alternating single/double stripes since he took office, and the weave of striped patterns represents his innate ability to weave together character, setting, plot, and conflict in addresses to the nation.  He demonstrates a tangible propensity to communicate the American Story to the people who need to know it the most (those living it).
Posted on February 2nd, 2009 by head
Filed under: Barack Obama Ties, Presidential Ties