Obama Weekly Address Tie
Tags: barack obama, blue, congressional leaders, dark, dimple, dots, economy, recovery.gov, weekly address, white dots
Saturday Morning, President Obama released his first in-office radio address to the nation. He spoke more specifically about his bold recovery plan for revamping the economy, and even addressed skepticism that the plan is too bold. From the video:
…this recovery plan must and will include unprecedented measures that will allow the American people to hold my Administration accountable for these results. We won't just throw money at our problems – we'll invest in what works. Instead of politicians doling out money behind a veil of secrecy, decisions about where we invest will be made public, and informed by independent experts whenever possible. We'll launch an unprecedented effort to root out waste, inefficiency, and unnecessary spending in our government, and every American will be able to see how and where we spend taxpayer dollars by going to a new website called recovery.gov.
Emphasis and HTML mine.
The post was made on the White House Blog just before 6AM. I like the idea that President Obama woke up before 5AM this morning to give us his calm reassurance, but, unless he decided to wear the same tie two days in a row, this is probably not what happened.
Original Photo Credit: Reuters/Jason Reed
The photo above is from a Friday meeting that the President had with congressional leaders in the Roosevelt Room of the White House. I know it's been a busy first week (usually after my first week at a new job I'm still trying to get my email address), but I doubt the President is sleeping in his suit, yet. Unless wore the same tie on two consecutive days, chances are he filmed the address late on Friday.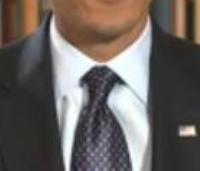 Posted on January 24th, 2009 by head
Filed under: Barack Obama Ties, Presidential Ties