Obama's Executive Undo Tie
Tags: barack obama, burgundy, dimple, executive orders, executive privilege, guantanamo, guantanmo, misaligned, neckofstate, neckties, poorly tied, pratt, red, salary freeze, solid, transparency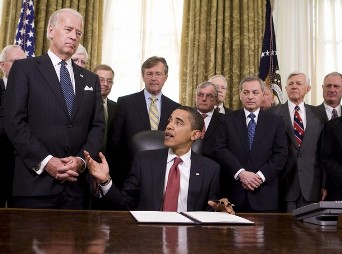 Original Photo Credit: Reuters/Larry Downing
Barack Obama spent the larger portion of Thursday undoing executive orders put in place my the Bush administration.  The dimple's a bit out of alignment on this solid burgundy tie – President Obama was clearly in a rush to start reversing every act President Bush took in his two terms.  Again, we see that Obama chooses a red tie when he's calling attention to the activities of his Predecessor.
Orders of interest coming out this week include:
Guantanamo Bay must be closed within a year.
The U.S. Army Field Manual is now the official standard for interrogation for all U.S. personnel; it prohibits waterboarding as well as threats, coercion, and physical abuse.
Anyone in the White House who currently makes more than $100k is getting a pay freeze.
Executive branch employees are now prohibited from taking gifts from lobbyists.
Executive branch employees may now only be hired based on qualifications, competence, and experience, as opposed to political connections.
Other officials besides the President can no longer claim executive privilege to keep executive-branch documents sealed. In particular, presidential pets and Dick Cheney may no longer claim that their communications are protected by separation of powers.
(more details on the orders can be found here and here)
While it was not expanded in an official executive order, Obama has informally rejected the Bush Doctrine Jacket Regulation, which required the President to be wearing a full suit at all times in the white house.  At Neck of State, this comes as no surprise.  No jacket means that the President's neck wear will always be in unobstructed sight for photographers, the secret service, and the public.  The president has created an atmosphere of total transparency in both government and ties.
Update: President Obama also destroyed the Global Gag Rule.
Posted on January 23rd, 2009 by head
Filed under: Barack Obama Ties, Presidential Ties