Obama Inaugural Tie
Tags: barack obama, dimple, inauguration, neckofstate, neckties, obama, pratt, president, red, squares
Original Photo Credit: Reuters/Jim Young
That we are in the midst of crisis is now well understood. Our nation is at war, against a far-reaching network of violence and hatred. Our economy is badly weakened, a consequence of greed and irresponsibility on the part of some, but also our collective failure to make hard choices and prepare the nation for a new age. Homes have been lost; jobs shed; businesses shuttered. Our health care is too costly; our schools fail too many; and each day brings further evidence that the ways we use energy strengthen our adversaries and threaten our planet… On this day, we come to proclaim an end to the petty grievances and false promises, the recriminations and worn out dogmas, that for far too long have strangled our politics… Starting today, we must pick ourselves up, dust ourselves off, and begin again the work of remaking America… As for our common defense, we reject as false the choice between our safety and our ideals.
(emphasis mine)
It's January 20th, 2009.  Barack Obama is now the 44th President of the United States of America, and he comes to us with promises of hope, change, and imminent disaster.  This was not a State of the Union address, and as such there was very little detail about where we should go from here.  He spoke boldly of the challenge facing America, and passionately about the task awaiting us as a nation.  For the next four years, this speech is the standard to which he will be repeatedly held.
Here at Neck of State, we look beyond the spin surrounding President Obama's speech to ask something more important:  What tie was he wearing, and what does that say about his message?  Obama's choice of a red patterned tie with a dimpled Pratt knot, along with the use of the adjective 'strangled' is hardly a coincidence. Red makes it clear who he thinks is to blame for the horrific challenges that he's describing, while the Pratt knot has long been known as the knot of hope, and calling partisan dogmas out for strangling our politics clearly delineates the presence of the underlying message  (vis a vis his necktie).  The New York Times posted tag clouds for every inaugural address in U.S. history, and each speech has themes and unique features (for example, Preisdent Obama seems to be the only one who ever thought it was worthwhile to pair the word "women" with every occurence of "men").
Mr. President, we look forward watching you carry your message out this term in your eloquent speeches, carefully planned budgetting and legislation, generous funding of education and science, liberal application of that whole 'everybody's equal' concept, and your meticulously selected neckwear.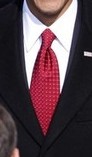 Posted on January 20th, 2009 by head
Filed under: Barack Obama Ties, Presidential Ties