Tags: arizona, ASU, barack obama, commencement, graduation, neck tie, yobani
At the 2009 Arizona State University Spring Commencement ceremony, Barack Obama met with high-school senior Yobani Mejia-Lopez, one of the first recipients of the Obama Scholarship. The President was photographed signing Yobani's neck tie: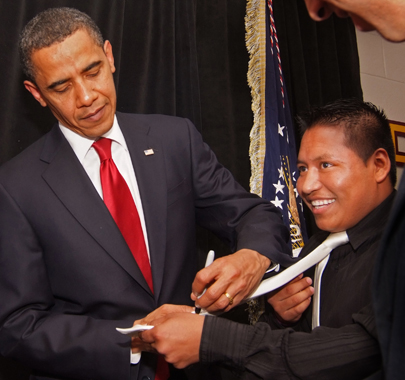 This act serves as an inspiring message to high school students across the country – your achievements in school will be recognized and rewarded, especially if you display subtle elegance of style in formal neck wear. You can see the photo in its original context here.
Yobani could not be immediately reached for comment.
Thanks to Neck of State reader Silka for writing in to share this example of Barack Obama neck tie news.
Posted on September 18th, 2009 by head
Filed under: Barack Obama Ties, Presidential Ties | 1 Comment »